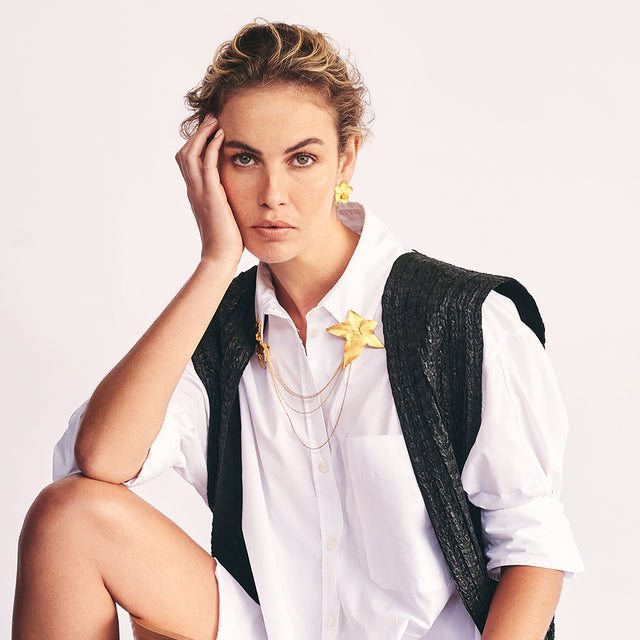 by Alma
Ivy Leaves Chains Collard Pin
Description
About The Brand
Cares and Warranties
Returns
This COLLARD NECKLACE is made with Ivy plant leaves found by the brand's creator in different parts of the Colombian territory, that undergo a mold free proccess where the piece is carefully hand painted using a delicate brush or sometimes dipped in 24K gold using a mold free technique, keeping the actual organic matter inside. This is a fun take on jewelry perfect to style with a basic white shirt and jeans or a shirt dress.
Product Details
Color: Gold.
Product Measurements: 5.5 X 6 CM
Nature's art handpainted with 24k gold
Made and sourced in Colombia.
Please keep in mind that all pieces are made with natural flowers, each one unique and beautiful in its own way. So there might be slight
Each pieces includes an informational card with the type of flower or plant, time and place where it was picked up and a certificate of authenticity.
Inspiration
This collection is inspired by the Neotropical region that includes the largest tropical forests on our planet, extending from southern Mexico to southern Brazil, passing through the dense Amazon jungle, and Central America. In this geographical area, the native nature of the region is still preserved, allowing Alma to make an expedition to these territories and collect flowers, branches and seeds, immortalizing and transforming the natural diversity into jewelry.
Alma
Ana and Juan are the founders and designers of Alma jewelry, a brand that started from a farewell orquid Juan gifted Ana, who saved it and turned it into a beautiful jewel not thinking this would be the start of an amazing road paved with flowers. Alma creates jewelry and accessories made with naturally dried flowers and plants, painted with 24K gold, keeping the actual organic matter inside, making each piece a unique and one of a kind piece of nature.
Care Instructions
To avoid deterioration of your jewelry, apply make-up, perfume or beauty products before putting it on
Do not use them to go to the beach, swim or exercise.
Keep it in a fabric bag to protect it when you are not using it.
Stones that break due to smashing or falling have no warranty, as these are deemed misuse or inappropriate care of the jewel.
Warranty
45 day warranty for any manufacturer related damages. Passed this period of time, any damages will have to go through an inspection. Please have in mind that sometimes repairing a piece is just as expensive as creating a new one. Lead Time: 15 business days after your order has been processed. The piece might be available earlier if available and in stock. .
Please read our RETURN POLICY and our TERMS AND CONDITIONS for any further information on returns.
RETURN POLICY
You can return all items sold on the website (unless stated on product page). In order to receive your refund, contact our customer service at hello@eldoradoart.com up to 14 after the receipt of your purchase to receive further instructions. Returns requested after two weeks or with no previous notification are not eligible for refund.
RETURN STEPS:
Contact our customer service team within 14 days upon receipt
Receive the Return Authorization Number and place it inside the package with the invoice and product.
Make sure to place all items returned with original packaging and tags (please refer to item conditions for full refund)
Ship it back to our offices using your preferred shipping service (with tracking) within 7 days after receiving your Return Authorization Number :
CALLE 100 #8A-55 OFICINA 601 TORRE C WORLD TRADE CENTER BOGOTA.
After receiving and inspecting your return, our team will contact you and issue a refund in the original method of payment ONLY.
Come back and shop again ;)
PRODUCT CONDITIONS FOR FULL REFUND:
Item(s) must be unused and unwashed in the exact same condition as shipped and without any sign of usage;
The product(s) must be returned with original packaging: branded boxes and dust bags are also part of the product and should be returned as well;
All tags should be in its original place;
All items should be returned in the original shipping package for proper protection during delivery.
If all the above conditions are not met, you may not be eligible for full return. In that case, you will have the option of receiving the product back at your own expense. If you refuse to have it returned, we reserve the right to keep the product and the original amount invoiced.
All refunds are made on the original method of payment only and may take up to 14 days to be disclosed on your bank statement. Once the refund is issued, you may contact your bank directly for more information.