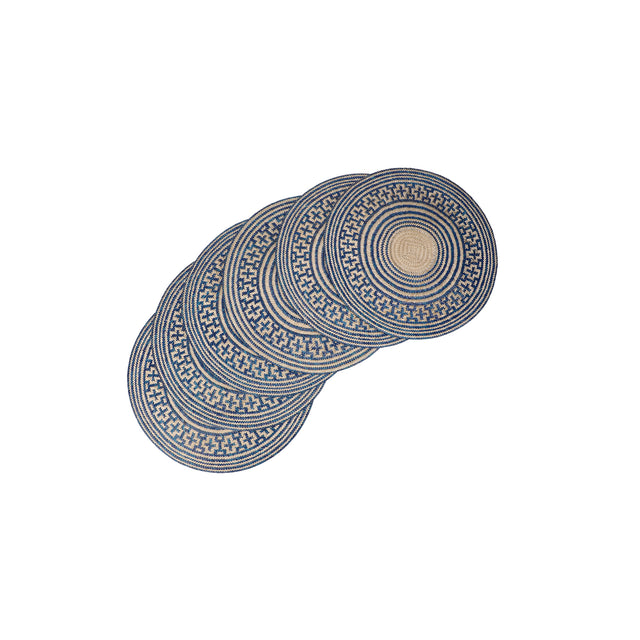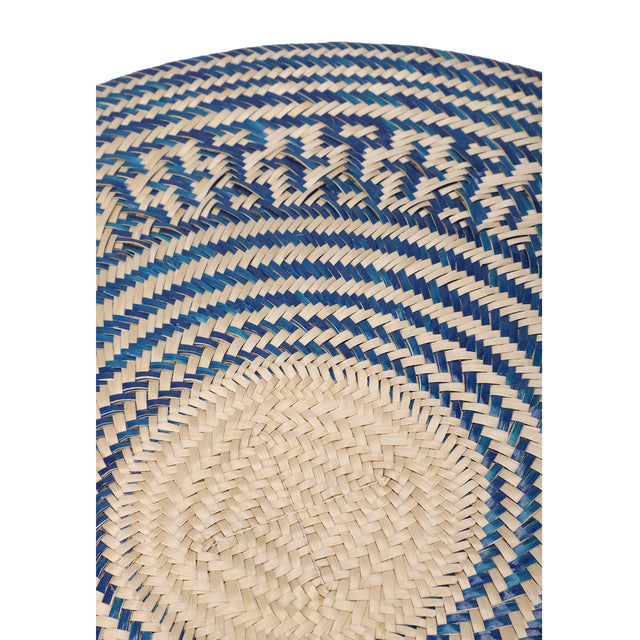 Description
About The Brand
Cares and Warranties
Returns
The Wayuu Placemats Set is 100% handmade using natural fibers taken from the Mawisa Palm by Wayuu artisans in La Guajira, Colombia.
This round placemat has a simple and sturdy design that you can use from breakfast to dinner. It is suitable for putting bowls, cutlery, tea sets and plates or using it as centerpieces. Designed with beautiful weaving details and traditional Wayuu symbols, adding a cultural element to you table. Take it with our
Sand Cactus Cushion
inspired by the silhouettes of the dunes from the La Guajira desert.
Product Details
Product measurements: 36 cm (Diameter)
Color: Blue and Beige.

Made of: Natural "Mawisa" Palm fiber.

Designed, sourced and made by the Wayuu indigenous artisans from La Guajira, Colombia.

Lead Time: 15 business days after purchase. Product could be available before if it is in stock.

Inspiration

The blue of the sea and the arid desert, serve as inspiration for the Wayuu Artisans. Their skills in weaving gives rise to various products with striking colors that honor their territory. The symbols with which these individuals weave come from figures that represent each of the families, members of the community.
Wayuu - Indigenous Weavers
The Mawisa palm weaving technique dates back to past centuries, when they made the traditional Wayuu Hat, a cultural icon from the Wayuu community. The artisans learned this craft from their grandparents and today they use it with passion, applied in new products.
Care Instructions
Avoid contact with rough and sharp surfaces since it may result in the deterioration of the fibers.

Please remember this is a handmade product and it should be treated with care.

To clean the product, we recommend doing it with a damp cloth and avoiding contact with substances such as chlorine or soap.
Warranty
30 day warranty for any damages related to production. Warranty will only be effective with a copy of the product´s invoice.
Please read our RETURN POLICY and our TERMS AND CONDITIONS for any further information on returns.
RETURN POLICY
You can return all items sold on the website (unless stated on product page). In order to receive your refund, contact our customer service at hello@eldoradoart.com up to 14 after the receipt of your purchase to receive further instructions. Returns requested after two weeks or with no previous notification are not eligible for refund.
RETURN STEPS:
Contact our customer service team within 14 days upon receipt
Receive the Return Authorization Number and place it inside the package with the invoice and product.
Make sure to place all items returned with original packaging and tags (please refer to item conditions for full refund)
Ship it back to our offices using your preferred shipping service (with tracking) within 7 days after receiving your Return Authorization Number :
CALLE 100 #8A-55 OFICINA 601 TORRE C WORLD TRADE CENTER BOGOTA.
After receiving and inspecting your return, our team will contact you and issue a refund in the original method of payment ONLY.
Come back and shop again ;)
PRODUCT CONDITIONS FOR FULL REFUND:
Item(s) must be unused and unwashed in the exact same condition as shipped and without any sign of usage;
The product(s) must be returned with original packaging: branded boxes and dust bags are also part of the product and should be returned as well;
All tags should be in its original place;
All items should be returned in the original shipping package for proper protection during delivery.
If all the above conditions are not met, you may not be eligible for full return. In that case, you will have the option of receiving the product back at your own expense. If you refuse to have it returned, we reserve the right to keep the product and the original amount invoiced.
All refunds are made on the original method of payment only and may take up to 14 days to be disclosed on your bank statement. Once the refund is issued, you may contact your bank directly for more information.