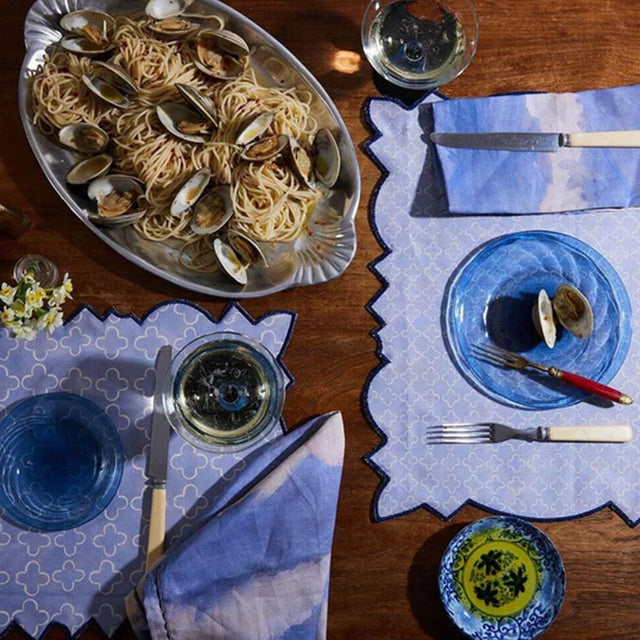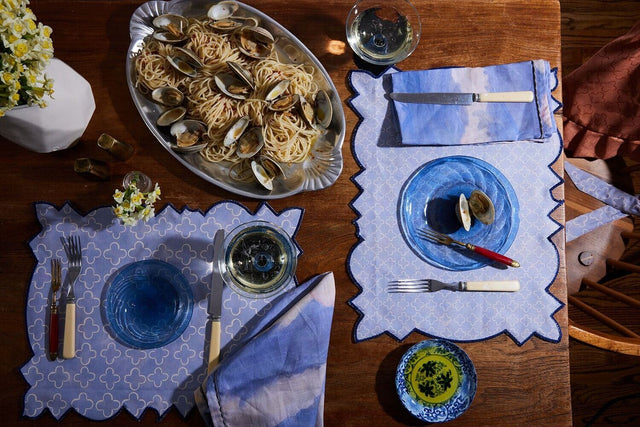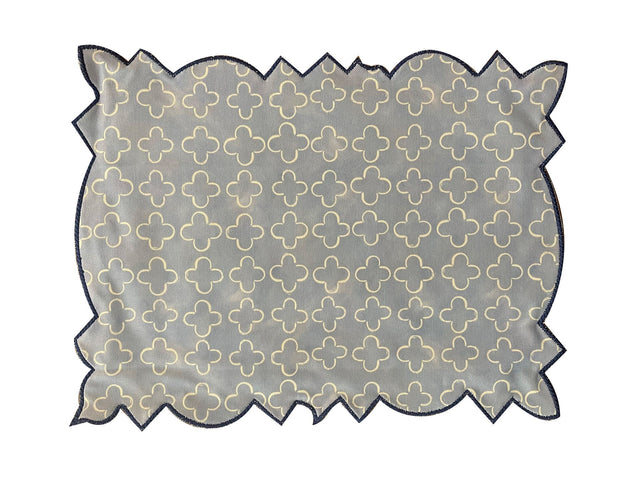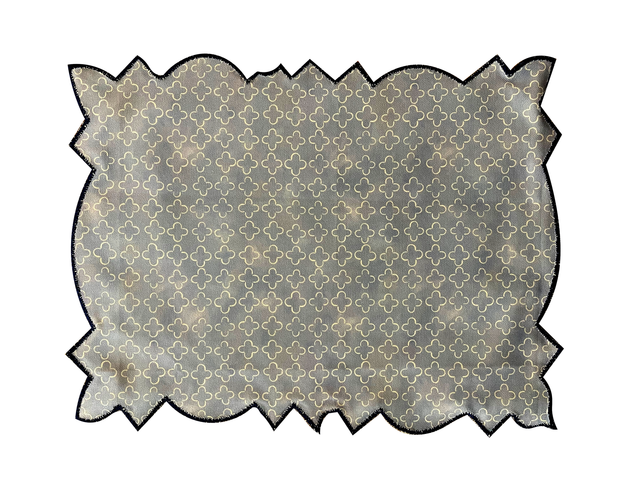 Description
About The Brand
Cares and Warranties
Returns
The double-sided placemats are made in a blue and white quatrefoil pattern on one side and plane blue color on the other. Padded and embroidered with a cut in a painterly design.
Set x 4
*Pre order
Product Details
Product Specs: Double sided placemats
Made in: Linen
Product measurements: 35 CM X 45CM / 13.7" X 17.5"
Waiting Time: 20 business days after purchase. Product could be available before if it is in stock.
Made to order
Inspiration
Mariana is a seasoned food designer, stylist and chef that has worked on dozens of English and Spanish language cookbooks, collaborated on magazine projects, commercials and feature films which have taken her all over the globe.
Her work has been featured in the New York Times, LA Times, Financial Times, Vogue, Food Wine, Bon Appetit, Wine, O Magazine, InStyle, amongst many others. She was selected among some of the country's best to food style American Grown, by First Lady Michelle Obama, a project that took her career into the White House kitchen and garden.
She is a passionate admirer of film, is an avid art collector and firmly believes that some of the most meaningful connections are forged around the table.
CASA VELASQUEZ
CASA VELASQUEZ is a utilitarian lifestyle and home brand that celebrates the passion for hosting, fashion, delicious food and all things entertaining created by Mariana Velasquez, food designer, stylist and chef.
Care Instructions
We recommend you dry cleaning although the pieces are machine washable. Please avoid any contact with bleach or any products containing bleach.
Warranty
30 day warranty for any damages related to production. Warranty will only be effective with a copy of the product´s invoice.
Please read our RETURN POLICY and our TERMS AND CONDITIONS for any further information on returns.
RETURN POLICY
You can return all items sold on the website (unless stated on product page). In order to receive your refund, contact our customer service at hello@eldoradoart.com up to 14 after the receipt of your purchase to receive further instructions. Returns requested after two weeks or with no previous notification are not eligible for refund.
RETURN STEPS:
Contact our customer service team within 14 days upon receipt
Receive the Return Authorization Number and place it inside the package with the invoice and product.
Make sure to place all items returned with original packaging and tags (please refer to item conditions for full refund)
Ship it back to our offices using your preferred shipping service (with tracking) within 7 days after receiving your Return Authorization Number :
CALLE 100 #8A-55 OFICINA 601 TORRE C WORLD TRADE CENTER BOGOTA.
After receiving and inspecting your return, our team will contact you and issue a refund in the original method of payment ONLY.
Come back and shop again ;)
PRODUCT CONDITIONS FOR FULL REFUND:
Item(s) must be unused and unwashed in the exact same condition as shipped and without any sign of usage;
The product(s) must be returned with original packaging: branded boxes and dust bags are also part of the product and should be returned as well;
All tags should be in its original place;
All items should be returned in the original shipping package for proper protection during delivery.
If all the above conditions are not met, you may not be eligible for full return. In that case, you will have the option of receiving the product back at your own expense. If you refuse to have it returned, we reserve the right to keep the product and the original amount invoiced.
All refunds are made on the original method of payment only and may take up to 14 days to be disclosed on your bank statement. Once the refund is issued, you may contact your bank directly for more information.