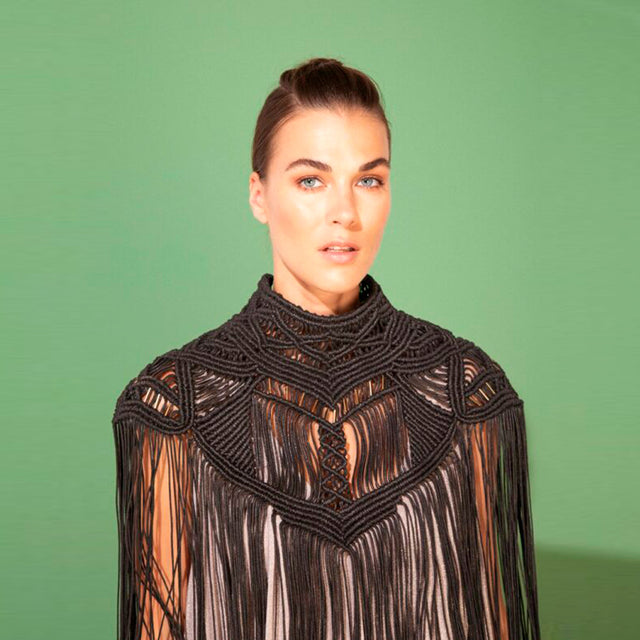 Description
Information
Returns
100% Handmade by artisans.
La pieza HOPU por Oropendola representa alrededor de 120 horas de trabajo artesanal usando hilos de algodón encerado creando unos diseños increíbles hechos con nudos, amarres y tubos de joyería en aleación de cobre y zinc bañados en oro de 24K.
Esta es una pieza de lujo artesanal, diseñada para todas las tallas y con una versatilidad que puedes "dress up or down" dependiendo de tu evento. Funciona para una fiesta en la playa o un evento en la noche o incluso un matrimonio!
Oropendola es el resultado de un trabajo en equipo entre una diseñadora y un grupo de artesanos. Junto creando piezas únicas.


Información de producto: Pieza hecha 100% a mano por artesanos en hilos de algodón encerado aplicando la técnica de macramé y tubos de joyería bañados en oro de 24K.

Información de cuidado: Esta es una pieza tejida a mano, por lo tanto se debe cuidar de ella. Evitar contacto directo con perfume y otros productos que contengan alcohol. Si es necesario limpiarla se recomienda hacerlo con un cepillo.

Garantía: Garantía de 45 días por daños de producción. En caso de tener algún inconveniente con tu pieza, puedes devolverla a nuestras manos para hacer el control respectivo.

Tiempo de producción: 21 días laborales después de su compra. El tiempo de espera puede ser menor si la referencia se encuentra disponible.

Material de fabricación: Las piezas son tejidas a mano usando hilo de algodón encerado y las piezas de joyería son hechas a partir de una aleación de cobre y zinc con baño en oro de 24k.
RETURN POLICY
You can return all items sold on the website (unless stated on product page). In order to receive your refund, contact our customer service at shop@estebancortazar.com up to 14 after the receipt of your purchase to receive further instructions. Returns requested after two weeks or with no previous notification are not eligible for refund.
RETURN STEPS:
1. Contact our customer service team within 14 days upon receipt
2. Receive the Return Authorization Number and place it inside the package with the invoice and product.
3. Make sure to place all items returned with original packaging and tags (please refer to item conditions for full refund)
4. Ship it back to our offices using your preferred shipping service (with tracking) within 7 days after receiving your Return Authorization Number :
CALLE 100 #8A-55 OFICINA 601 TORRE C
WORLD TRADE CENTER
BOGOTA, COLOMBIA
5. After receiving and inspecting your return, our team will contact you and issue a refund in the original method of payment ONLY.
6. Come back and shop again ;)
PRODUCT CONDITIONS FOR FULL REFUND:
Item(s) must be unused and unwashed in the exact same condition as shipped and without any sign of usage;
The product(s) must be returned with original packaging: branded boxes and dust bags are also part of the product and should be returned as well;
All tags should be in its original place;
All items should be returned in the original shipping package for proper protection during delivery.
If all the above conditions are not met, you may not be eligible for full return. In that case, you will have the option of receiving the product back at your own expense. If you refuse to have it returned, we reserve the right to keep the product and the original amount invoiced.
All refunds are made on the original method of payment only and may take up to 14 days to be disclosed on your bank statement. Once the refund is issued, you may contact your bank directly for more information.