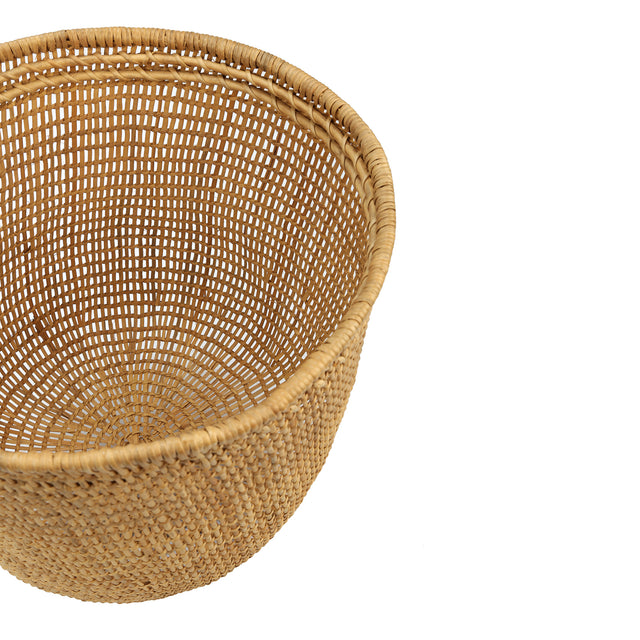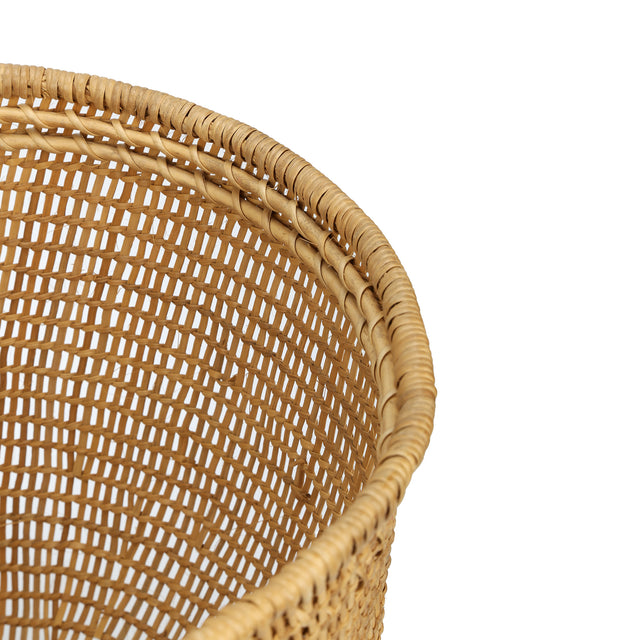 Description
About The Brand
Cares and Warranties
Returns
The Uitoto Basket is 100% handmade using natural fibers from the "Bejuco Yaré" by the Uitoto indigenous community in Caquetá, Colombia.
Its traditional use as a container makes it a unique element, perfect for your home. Its large size allows you to use it as a basket for clothes, linens, blankets or cushions in the bedrooms, the TV room or in your living room. This piece will give a cultural and unique touch to your home. Get it along with our
Sand Cactus Cushions
and add an unique artisanal touch to any space.
Product Details
This design is available in 4 sizes: S, M , L and XL
Color: Beige, natural color,

Made of: Natural fiber taken from the "Bejuco Yaré".

Designed, sourced an. made by the Uitoto indigenous community in Caquetá, Colombia.

Lead Time: 15 business days after purchase. Product could be available before if it is in stock.

Inspiration

Since they are girls, the artisans learn to weave this basket for their own use and that of their community. Traditionally used to collect the fruits or fish. Over the years, their skill and dexterity increase creating unique objects with the same intricate technique.
Uitoto - Indigenous Weavers
Natives from the Amazon jungle, they are among the first to inhabit this territory, so they have the greatest knowledge of the natural world and the deep jungle. The knowledge of their techniques is passed from their mothers and grandmothers, obtaining and transforming the "Cumare" fiber and the "Yaré bejuco" fiber.
Care Instructions
We recommend not exposing the piece to moisture and drying immediately if there is direct contact with water.

Please remember this is a handmade product and it should be treated with care.

To clean the product, we recommend doing it with a damp cloth and avoiding contact with substances such as chlorine or soap.

For indoor use only.
Warranty
30 day warranty for any damages related to production. Warranty will only be effective with a copy of the product´s invoice.
Please read our RETURN POLICY and our TERMS AND CONDITIONS for any further information on returns.
RETURN POLICY
You can return all items sold on the website (unless stated on product page). In order to receive your refund, contact our customer service at hello@eldoradoart.com up to 14 after the receipt of your purchase to receive further instructions. Returns requested after two weeks or with no previous notification are not eligible for refund.
RETURN STEPS:
Contact our customer service team within 14 days upon receipt
Receive the Return Authorization Number and place it inside the package with the invoice and product.
Make sure to place all items returned with original packaging and tags (please refer to item conditions for full refund)
Ship it back to our offices using your preferred shipping service (with tracking) within 7 days after receiving your Return Authorization Number :
CALLE 100 #8A-55 OFICINA 601 TORRE C WORLD TRADE CENTER BOGOTA.
After receiving and inspecting your return, our team will contact you and issue a refund in the original method of payment ONLY.
Come back and shop again ;)
PRODUCT CONDITIONS FOR FULL REFUND:
Item(s) must be unused and unwashed in the exact same condition as shipped and without any sign of usage;
The product(s) must be returned with original packaging: branded boxes and dust bags are also part of the product and should be returned as well;
All tags should be in its original place;
All items should be returned in the original shipping package for proper protection during delivery.
If all the above conditions are not met, you may not be eligible for full return. In that case, you will have the option of receiving the product back at your own expense. If you refuse to have it returned, we reserve the right to keep the product and the original amount invoiced.
All refunds are made on the original method of payment only and may take up to 14 days to be disclosed on your bank statement. Once the refund is issued, you may contact your bank directly for more information.