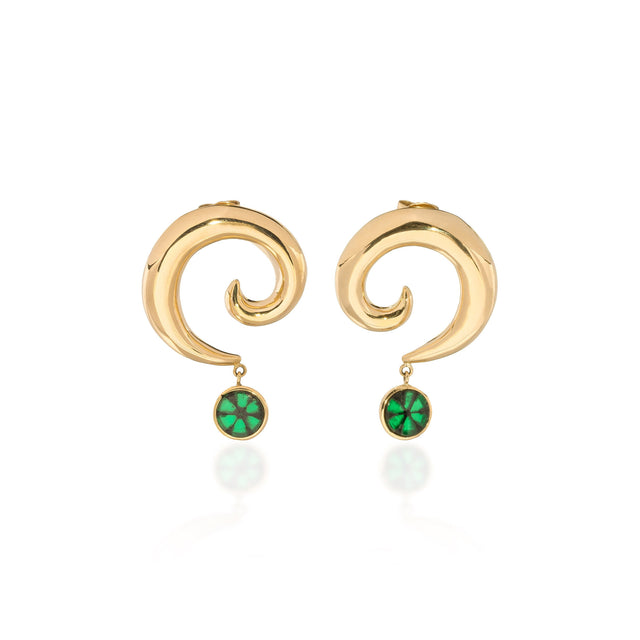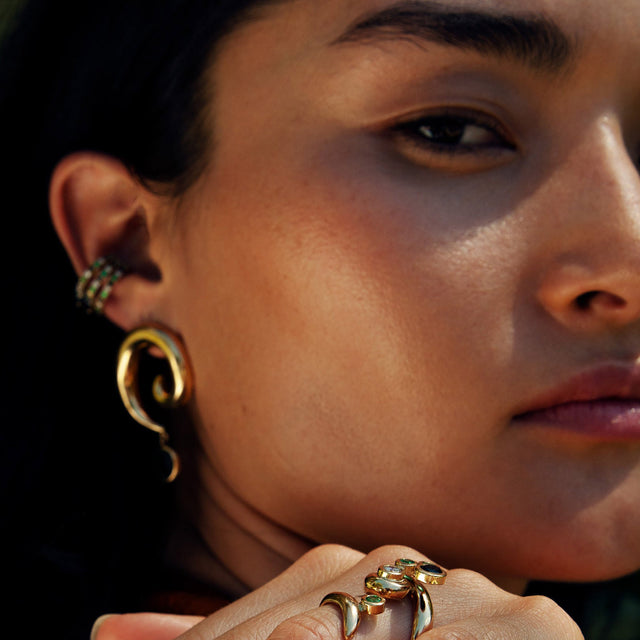 Description
Information
Returns
BY PAULA MENDOZA
The SPIRAL DREAMS EARRINGS by PAULA MENDOZA are a little and classic statement that will light up your face.
Designed with the Wayuu symbology in mind, that represents the act of dreaming, these spiral earrings are made in solid 18k gold and 2 trapiche emerald, an exclusive gemstone only found in a remote region in Colombia, to add some movement.
These pieces make part of a fine jewelry capsule collection by Paula Mendoza sponsored by El Dorado Edit.

Long 30 mm
Width 40 mm
Total Weight 19.3 gr pair
*All pieces are made with certificate gemstones.
Product Specs: Handmade jewelry made with solid 18K gold and Trapiche emeralds, an exclusive gemstone only found in a remote region in Colombia. We work with responsibly-sourced emeralds that come from mines located in Muzo, Colombia that meet the ethical standards of sustainability and human rights.
About The Designer: PAULA MENDOZA is one of the most successful and recognized jewelry designers from around the world thanks to her enormous talent and capability of understanding and re interpreting ancestral and cultural symbolisms into new modern jewelry.
Made In: Bogotá, Colombia.
Lead Time: 20 business days after purchase. Product could be available before if it is in stock. These pieces are made to order.
Care instructions: To avoid deterioration of your jewelry, apply make-up, perfume or beauty products before putting it on. Do not use them to go to the beach, swim or exercise. Keep it in a fabric bag to protect it when you are not using it. Stones that break due to smashing or falling have no warranty, as these are deemed misuse or inappropriate care of the jewel.
Warranty: 30 day warranty for any manufacturer related damages. Passed this period of time, any damages will have to go through an inspection. Please have in mind that sometimes repairing a piece is just as expensive as creating a new one.
All pieces from our fine jewelry collection are made to order and customized which mean there are no returns and all sales are final.